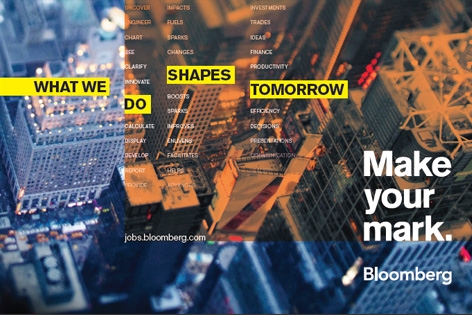 Enjoy a 10-week Internship at Bloomberg in New York City
Know someone interested in interning at a market leader in global business, financial information and news? Bloomberg is proud to offer a 10-week, paid 2015 or 2016 Summer Internship at its headquarters in New York City.
Bloomberg has an ever expanding array of technology, data, news and media services that afford interns the opportunity to solve complex challenges across industries and geographies. Its interns represent the best and brightest students from around the world — they are the next generation of leaders.
This internship gives students the opportunity to learn from top professionals, push boundaries and turn sketchpad ideas into business realities. Under the guidance of Bloomberg managers, interns launch new projects and develop professional skills, making lifelong connections as part of an outstanding peer group. Along the way, interns also benefit from constructive performance feedback, career advice, cultural and philanthropic events, and insights into working life at Bloomberg.
Bloomberg connects business leaders to the world's most comprehensive network of information, people and ideas. It delivers up-to-the-second business and financial information, news and insight across the globe.
Bid now for this prestigious internship and give someone you know the chance to make their mark on the world of business
Donated by: Bloomberg Philanthropies