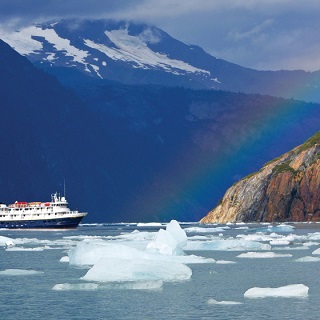 Explore Southeast Alaska with Lindblad Expedition, the Cruise Critic's 2019 Top Small Ship Cruise Line in Alaska! Venture into a land of mist shrouded fjords, tidewater glaciers and islands teeming with wildlife. Sail alongside pods of orca whale and see breaching humpbacks. And on land, every day is active and engaging. Hike through lush forests to cascading waterfalls, and ride Zodiacs into secluded inlets to look for brown bears.
Step aboard for an unforgettable travel exploration of a dynamic environment—and get the most in-depth experience possible. Lindblad's small expedition ships (62 to 100 guests) to Alaska are perfect for exploring places large ships cannot go, and they foster welcoming communities where camaraderie kindles. You'll sail through narrow channels and past towering mountains; stand on the open bow to observe wildlife. Sleep soundly and wake to fresh vistas of glaciers and forests outside your cabin.
Explore under the sure guidance of an expedition leader, five veteran naturalists, including a Lindblad-National Geographic certified photo instructor and an undersea specialist, plus a wellness specialist––the largest and most knowledgeable expedition team in Alaska. Their knowledge and passion for Alaska is the key to your once-in-a-lifetime experience.
Itinerary:
Benefit from Lindblad's more than 30 years of experience and relationships in Alaska to see all you came for and more.
Prize valid for one Category 2 cabin for two persons, for departure by September 2021.
Departure date is based on availability by Lindblad Expeditions and subject to holiday and other blackouts.
Cabin booking and confirmation cannot be made until 60 days prior to sailing.
Donation does not include air transportation, baggage/accident/cancellation insurance, extensions, passport, visa, immigration fees, meals not indicated, travel protection plan, items of personal nature, alcoholic beverages, and laundry.
Gratuities to ship's crew at traveler's discretion.
Value: $15,980.00
Generously donated by Lindblad Expeditions-National Geographic
To bid on this auction item, you can view our auction here.