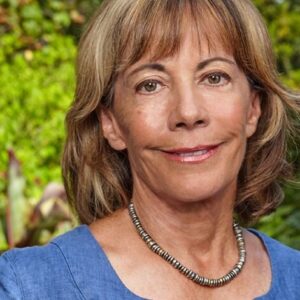 The ocean played an integral role in shaping the trajectory of Anne Earhart's life. She spent her childhood visiting So Cal beaches and exploring the coast. Then, on a trip to Baja California, she experienced a life changing encounter with friendly gray whales. The breathtaking display planted the seeds for Ms. Earhart's life's calling, and indelibly marked the beginning of her journey to environmental philanthropy.
Her commitment to environmental causes gradually shaped the Marisla Foundation into a conservation powerhouse. Today, it provides substantial and consistent funding to more than 600 nonprofits, the majority with missions focused on addressing global environmental challenges.
Reflecting Ms. Earhart's lifelong love of the ocean, Marisla has emerged as a particularly effective leader in marine conservation, working strategically to strengthen biodiversity and ecosystems and mitigate for pollution and overfishing impacts. Every year, Marisla Foundation supports more than 150 organizations working to protect healthy coasts and oceans. Through her efforts, she is helping to preserve access and stop water pollution and development impacts at some of the world's epic surf spots, including in Mexico, Chile, Hawaii, and, of course, in her home of California.
Because saving the world's oceans is too monumental an undertaking for a single foundation, Marisla has forged dynamic partnerships with other foundations committed to that cause. Together, with partners, Marisla created Oceana, the first major nonprofit committed to the restoration and protection of the world's oceans. Thus far, Ms. Earhart's philanthropy has helped preserve 4.5 million square miles (and counting) of ocean.
This extraordinary range of accomplishment places Anne Earhart prominently within the ranks of today's great conservationists. And to this day, she finds her greatest joy in a simple day at the beach with her family and grandson, Finn (6 years).