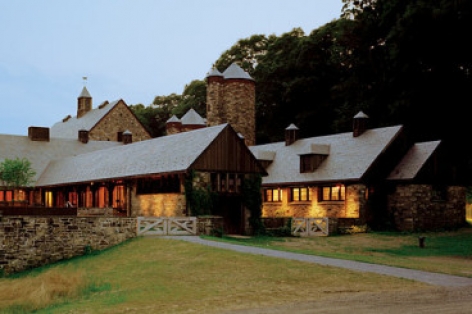 Dinner with Dick Wolf and Susan & David Rockefeller at Blue Hill at Stone Barns
Enjoy a once-in-a-lifetime culinary evening at the iconic Blue Hill at Stone Barns with television writer, creator, producer and director Dick Wolf, his wife Noelle Lippman and Philanthropists Susan and David Rockefeller. Dick Wolf is the creator and executive producer of the Law & Order franchise
Susan and David Rockefeller
Susan Cohn Rockefeller is a writer and filmmaker dedicated to educating and inspiring audiences with stories that show the passions and joys of the human experience. Susan is also on the Board of Directors at Oceana, the world's largest ocean conservation group.
David Rockefeller, Jr. is a Director and former Chairman of Rockefeller & Co. and has been an active participant in the non-profit arena, especially in the areas of the environment, arts, and public education.
Blue Hill at Stone Barns
In spring of 2004, Blue Hill at Stone Barns opened within the Stone Barns Center for Food and Agriculture in Pocantico Hills, New York. The Barbers helped create the philosophical and practical framework for Stone Barns Center, a working four-season farm and educational center just 30 miles north of New York City, and continue to help guide it in its mission to create a consciousness about the effect of everyday food choices.
Dates based on availability
Valid from 4/2016 through 4/2017
Value: Priceless
Generously donated by Blue Hill at Stone Barns, Noelle and Dick Wolf and David and Susan Rockefeller