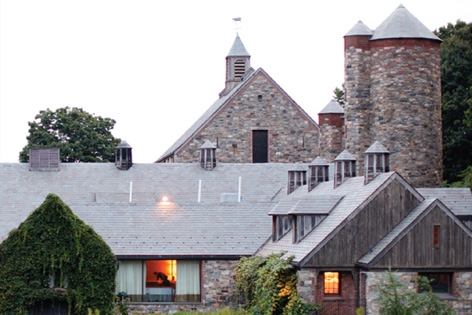 Dinner at the iconic Blue Hill at Stone Barns with actor Sam Waterston, his wife Lynn and environmentalists Susan and David Rockefeller
Enjoy a once in a life time culinary evening at the iconic Blue Hill at Stone Barns with actor Sam Waterston and his wife Lynn and Philanthropists Susan and David Rockefeller.
Sam Waterston
Sam Waterston, a lifelong ocean advocate, has played an active role in saving the oceans since joining Oceana's Board of Directors in May 2007. Previously, Sam served on Oceana's Ocean Council, along with a select group of academic, business, policy and philanthropic leaders.
As a native of the northeastern United States, Sam has personally witnessed the effect of declining fisheries. He got involved with Oceana initially because he grew up beside the ocean in New England and loved it. When Sam learned that the collapse of the New England cod fishery was final, with all that meant for the communities and fishermen there, he wanted to help. He started to read more and more scientific reports clearly showing that our oceans are headed towards an irreversible collapse and learned that Oceana was actually doing something about it. Sam hosted "The Visionaries," a PBS documentary about nonprofits, for 11 years.
Over the next four decades, Waterston's career goes on to include a plethora of film and television credits as well as repeated returns to the stage. His trophy case includes television awards such as the Emmy, Golden Globe, and Screen Actors Guild, and theater awards like the OBIE and Drama Desk. Other accolades include an Academy Award nomination for his role as journalist Sydney Schanberg in 1984′s "The Killing Fields" and six Emmy Award nominations for his roles in "I'll Fly Away" and "Law & Order."
Susan and David Rockefeller
Susan Cohn Rockefeller is a writer and filmmaker dedicated to educating and inspiring audiences with stories that show the passions and joys of the human experience. Susan is also on the Board of Directors at Oceana, the world's largest ocean conservation group.
David Rockefeller, Jr. is a Director and former Chairman of Rockefeller & Co. and has been an active participant in the non-profit arena, especially in the areas of the environment, arts and public education.
Blue Hill at Stone Barns
Sourcing from the surrounding fields and pasture, as well as other local farms, Blue Hill at Stone Barns highlights the abundant resources of the Hudson Valley. There are no menus at Blue Hill at Stone Barns. Instead, guests are offered the multi-taste Grazing, Rooting, Pecking menu featuring the best offerings from the field and market.
In spring of 2004, Blue Hill at Stone Barns opened within the Stone Barns Center for Food and Agriculture in Pocantico Hills, New York. The Barbers helped create the philosophical and practical framework for Stone Barns Center, a working four-season farm and educational center just 30 miles north of New York City, and continue to help guide it in its mission to create a consciousness about the effect of everyday food choices.
Terms and Conditions:
Dates based on availability
Valid from 4/2015 through 4/2016