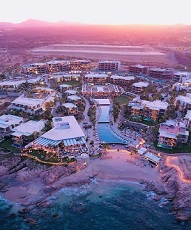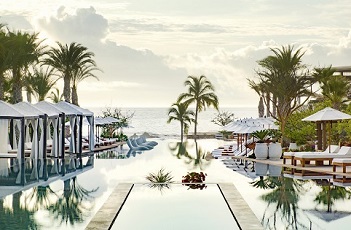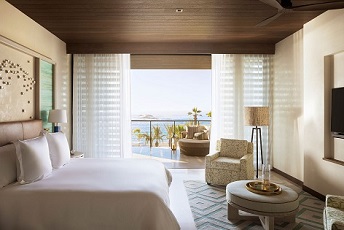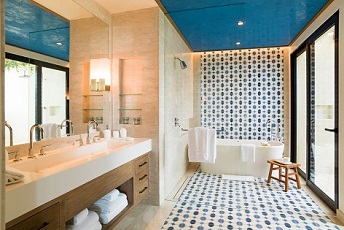 Nestled along a protected cove, the most desirable beach in Los Cabos has long been known for its tranquil, swimmable waters and pristine coral reefs, where a short venture out to sea unveils a hidden underwater world of tropical fish and sea turtles. The new Chileno Bay was created with a distinct vision to bring a contemporary take on the classic Baja escape with an airy, open aesthetic that blurs the line between indoor and outdoor with private terraces in each guest room.
This package includes:
Three (3) nights in a luxurious Ocean View Room
Daily breakfast for two (2) at Signature Restaurant COMAL
Roundtrip transportation from and to the airport
Two (2) roundtrip tickets to Cabo San Lucas on United Airlines
COMAL Restaurant:
Named after a type of cast-iron cooking pan in use for centuries in Mexico, and often passed down through generations in the same family, COMAL is rooted in the authentic and traditional, but injected with its own modern, inventive spirit. Here, you'll dine on braised short rib with cacao broth, along with a selection of the freshest ceviche and crudo prepared in their live-action Raw Bar. Named #1 Best Restaurant in Los Cabos 2019 by USA Today 10 Best.
Terms and Conditions: 
Reservations for these tickets are booked in a specific inventory that may not be offered on every flight, and where offered, will be restricted to a limited number.  The earlier the reservation is made, the greater the possibility of securing confirmation on satisfactory dates and times.  At the time the reservation is confirmed, discuss with the agent when the tickets must be issued. 
Travel is valid on flights operated by United or operated by other airlines branded as United Express. Travel is not permitted on other codeshare flights. 
Ticketing fees, taxes, and surcharges, which vary by destination, are your responsibility and may be paid by credit card at the time of ticketing.  The air fare is complimentary. 
All travel must be completed by December 1, 2021. 
One-way or round-trip travel is permitted; no additional stopovers are permitted. 
Mileage accrual is not permitted. 
This offer is not combinable with any other offer. 
This award is void if sold or bartered. 
In the event of an irregular flight operation, alternate travel will be provided only on United Airlines. 
Dates based on availability and certain blackout dates apply. Valid from December 1, 2020 – December 1, 2021.
VALUE: $6,000 
Generously donated by the Maritz family of companies and Auberge Resorts International 
To bid on this auction item, you can view our auction here.