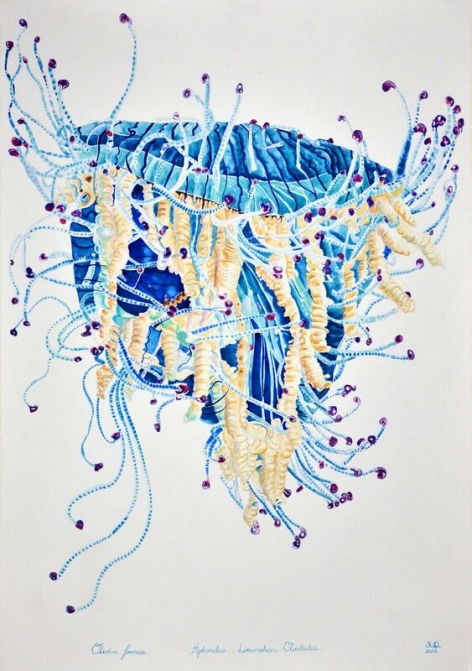 "Jellyfish #11, Olindias Formosa" by Jennifer Clifford Danner
2012, watercolor and gouache on paper, 52″ x 70"
Artist's Statement:

i
I have always been a narrative painter; portraiture, in its broadest sense, has been an evocative means of communicating my vision as an artist. It is through this lens that my exploration began. In portraiture, I capture a moment and a glance to reveal context, thoughts–a moment in time–in history–in society. They are always deeply personal narratives. After years of depicting people, both individually and in social situations, a deep, personal connection with the sea turned my attention to the ocean itself and the life that inhabits it. Focusing on a series of larger-than-life portraits of various jellyfish, I began from source photographs, creating large-scale, almost mechanical studies and discovered that watercolor was the best medium to evoke their softness, flow, power and color: their identity. And, much like a nameplate on a classical portrait, all are presented with their names in Linnaean classification.
ii
These first paintings were the beginning of my exploration into the early oceanic forms. As I painted, organic structures revealed universal patterns in nature; tissues of the jellyfish interiors read as pulmonary tissue, lobes of the brain, neural connections. The oneness I believe in becomes palpable in the enlargement; it starkly depicts the truth of our shared DNA. Just as an astronomer looks to the stars to see the past, we can look to these creatures to see our beginnings, our origins. These are creatures of prehistory, and as I paint, I travel back visually, seeing and connecting our relationships with each other as creatures on the earth. These are our ancestors.
iii
There is an undeniable power in their grace, form and color; a nobility borne of silence. And yet, there is also the evocation of dark truths in the balance of nature: they are dangerous, predatory, and poisonous, and in certain cases, immortal. Perhaps most poignantly, they often appear in exponential populations in ocean waters that are polluted and experiencing an environmental imbalance. Certain questions began to arise as I continue to dive into the waves; as we share organic structures and biological complexity with all of life's creatures, do these evident commonalities not also prompt us to ask if we share in these same dark truths and grace? And, endowed with intellect, do we not have the burden of stewardship for our common environment?
iv
As I continue to explore these creatures, I am deconstructing the organic forms toward creating a language of imagery to evoke our shared structures within the color, temperature and sensation of the oceans. I move from painting the portraits of these ocean creatures to examining and expanding their parts. I move from seeing them macroscopically to observing them microscopically. My aim is to transform natural life forms into art: symbolically in the form of the image, literally in the incorporation of organic matter, and finally through the wet processes of watercolor, papermaking and the moulding of clay.
v
As an artist I see beauty in nature and the organic form. I find in myself a desire to present rather than harness, to redirect, rather than apply the forms of nature, creating works that evoke a kind of postmodern Jugendstil. I seek a directness: a clarity unconstrained by the affect of fashion; a sense of smell that communes with the vastness of Sargassum that inspires me. My Water Walland ocean paintings act as immersive meditative experiences for the viewer: to inundate through paint, color and the mark of the artists'hand, a reflection of the overwhelming power of the ocean. The Ocean is our spiritual and evolutionary mother, womb of the Earth, source of first life, in balance and partnership with the Earth. But I also see, as Schelling and Humboldt believed – Nature itself, a living organism: our Earth itself, a living, breathing being.
About the Artist
Jennifer Clifford Danner is a New York City-based artist. A graduate of the Rhode Island School of Design, Ms. Danner has focused much of her work on the study and interpretation of the Oceans and its organic life forms in several media including oils, watercolors, ceramics and handmade paper pieces. She creates larger than life portraits of many of these life forms, sometimes deconstructing them to reveal new interpretations, abstractions and humanism. She has exhibited in Providence, RI, Washington, DC. , Provincetown, MA and New York City at Leila Heller Gallery and White Columns among others and has a current exhibition at the Stewart Clifford Gallery in Provincetown, MA, through September 12th.
Framed with UV plexiglass
Value: $14,000
Generously Donated by Jennifer Clifford Danner