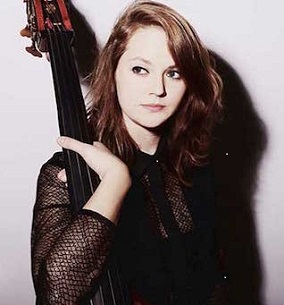 The music of multi-instrumentalist and vocalist Kate Davis has been turning heads in New York's music scene since 2012. Whether she's crooning rootsy ballads or plucking bright riffs from her bass, the gutsy songstress from Portland, Oregon, puts a fresh spin on the standards and brings a canonical sensibility to her own lush tracks.
Lauded by MTV as one of 2014's "15 Fresh Females Who Will Rule Pop," Kate grew up with an instrument in her arms and a head full of inventive lyrics. Her lifelong training makes for smart, warm pop that's as musically nuanced as it is addictive. If you put a mid-career Jenny Lewis album in a room with Regina Spektor's coloring, Joanna Newsom's lyric poetry, and a dose of Tina Fey's sharp wit—then added a couple decades of rigorous musical education and a shift dress—Kate Davis might come strolling out.
Vivid, nostalgic melodies materialize out of Kate's musical arrangements, her songbird voice complimented by a rich rock 'n' roll bass-line. Alternating between achingly soulful and flippantly funny, Kate's songwriting combines ranging sonic textures with an anecdotal knack. Her lyrics are novel and rhapsodic, cutting through the clichés and trivia of pop parlance to deliver something honest and truly perceptive. She's performed at such illustrious venues as The Kennedy Center, The Bowery Ballroom, Lincoln Center, and Carnegie Hall—as well as pretty much every noteworthy club in NYC.
Recently, Kate has shared the stage with such diverse artists as Alison Krauss, Josh Groban, Michael Feinstein, Ben Folds, Joshua Bell, Wynton Marsalis, and Renee Fleming. Her accolades include a Robert Allen Award from the ASCAP Foundation, and her arts advocacy work includes a presentation at TEDx Portland and participation in the 2010 National Arts Policy Roundtable. Upcoming projects include an appearance in the Disney film, "The Finest Hours" , the Kennedy Center's American Voices PBS special, and her first label album release. Kate was a featured artist and served as music director the Sundance Festival's tribute to Nina Simone. Her cover of "All About That Bass" with PostModern Jukebox is approaching 10 million YouTube views.
A Silver Winner of the National YoungArts Foundation, Kate became a New York transplant in 2009, when she enrolled at Manhattan School of Music. She currently works with drummer Conor Rayne and Mike Brun, with whom she continues to develop her signature genre-defying sound. The trio continues to pair contagious melodies with crafted musical arrangements and to tell the kind of emotionally resonant stories you'll remember long after the song is over.