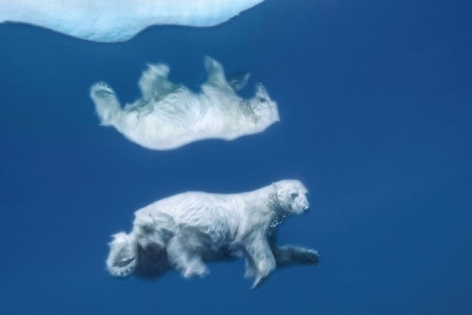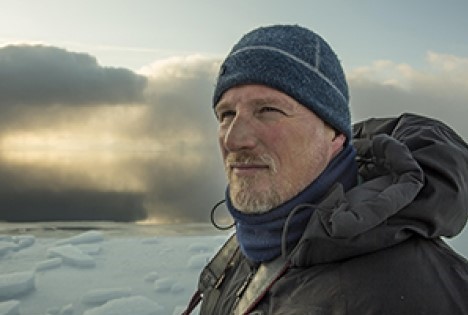 This iconic image by Paul Nicklen is, perhaps, his most wellknown photograph. Captured from a small boat Nicklen was piloting alone, this image shows a reflection of a polar bear on the ice's surface.
Dimensions: 40″ x 60″
Digital C print on museum plexiglass
Edition 30
About Paul Nicklen
Paul Nicklen is a Canadian photographer, filmmaker, and marine biologist who has documented the beauty and the plight of our planet for over twenty years. As an assignment photographer for National Geographic magazine, Nicklen captures the imagination of a global audience.
Nicklen is uniquely qualified to create his brand of documentary photography which informs and creates an emotional connection with wild subjects in extreme conditions. His work delivers audiences to an underwater realm witnessed by few. Nicklen's sensitive and evocative imagery has garnered over 30 of the highest awards given to any photographer in his field, including the BBC Wildlife Photographer of the Year and the prestigious World Press Photo for Photojournalism.
He is equally recognized by the conservation community for his outspoken work, and has been awarded the Natural Resources Defense Council BioGems Visionary Award. Most recently, Nicklen was bestowed an honorary PhD at the University of Victoria, for the impact his photography has had on climate change.
In addition to being one of the world's most acclaimed nature photographers, Nicklen is a sought-after speaker, a TED Talks legend, an author, and National Geographic Fellow. In the past two decades, Paul has collaborated with scientists, filmmakers, conservationists and explorers to create awareness and inspire action for global issues like climate change.
As a co-founder of the non-profit, SeaLegacy, Paul Nicklen is opening a fresh, progressive chapter in the story of ocean conservation. Through visual storytelling, Sea Legacy inspires millions of people to stand up and have a voice for the pristine places threatened by climate change.
In April 2017, the Paul Nicklen Gallery in SoHo, New York City opened, showcasing fine art conservation photography by Nicklen and other iconic photographers. Partial proceeds of every print sale fund Sea Legacy's mission.
Value: $12,000
Generously donated by Paul Nicklen Gallery and Sea Legacy