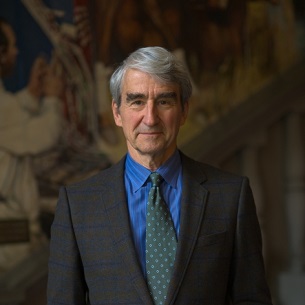 As a member of Oceana's board of directors, Waterston brings to the organization a wealth of talent and resources in support of Oceana's programming and mission.
"I've loved the ocean all my life," explained Waterston. "As a New Englander, I've seen the nasty effects of fisheries collapses on the life of seaside towns. Scientists now warn us that unless we do something, the world is on a path to global fishery collapses by mid-century, a calamity of mind-boggling proportions we can still avert. The time to act is now, which is why I'm very happy to be working with an organization as effective as Oceana."
Waterston was born in 1940 in Cambridge, Massachusetts, where his father was a language teacher and his mother was a landscape painter. He attended preparatory schools Brooks and Groton before earning a scholarship to Yale University, where he graduated with a Bachelor of Arts in 1962. Later that year, Waterston made his New York debut at the Phoenix Theater in "Oh Dad, Poor Dad, Mama's Hung You in the Closet and I'm Feelin' So Sad."
Over the next four decades, Waterston's career goes on to include a plethora of film and television credits as well as repeated returns to the stage. His trophy case includes television awards such as the Emmy, Golden Globe and Screen Actors Guild and theater awards like the OBIE and Drama Desk. Other accolades include an Academy Award nomination for his role as journalist Sydney Schanberg in 1984's "The Killing Fields" and six Emmy Award nominations for his roles in "I'll Fly Away" and "Law & Order."
"We are very grateful for Sam's help," noted Oceana's chief executive officer Andrew Sharpless. "He gets it. He has closely followed the drumbeat of scientific reports about the rapid depletion of life in our oceans. Everyone recognizes and trusts him. He will be a huge help for our campaigns to bring the world's oceans back from the brink of irreversible collapse.