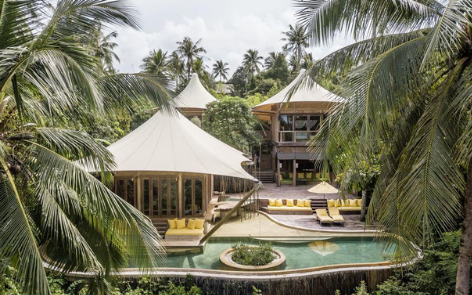 Unparalleled luxury meets eco-friendly design. The Soneva Kiri resort on the island of Koh Kood is nestled in a lush tropical rainforest with some of the best beaches in Thailand. The villas are spacious and tastefully decorated, blending in perfectly with the environment.
This package includes:
5 nights in a 4-bedroom villa suite (a maximum of 8 adults)
Daily breakfast
The Resort
Soneva Kiri is on Thailand's fourth largest but least populated island. The resort takes sustainability seriously: cooking oil is recycled as biofuel, water gets reused several times, and the compost system is sophisticated. It features four restaurants offering upscale, yet authentic, Thai menus. There are activities galore including a seaside cinema whose screen appears to float on the water. Spend your days hiking through the lush jungle, swimming in nearby waterfalls or snorkeling in crystal clear waters. There's even a state-of-the-art observatory where you can count the moons of Jupiter and marvel at Saturn's translucent ring.
Value: $50,000 – $80,000, depending on the season
Generously donated by Soneva Kiri