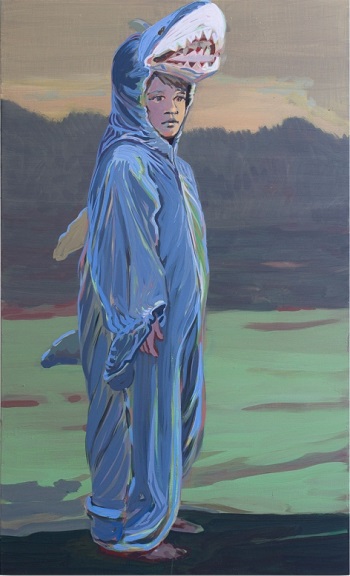 "The Little Shark" 2017 by Claire Tabouret
Dimensions: 60″ x 36″
Acrylic on Canvas
About Claire Tabouret
Claire Tabouret was born in 1981 in Pertuis, France. She received her B.F.A. the École Supérieure des Beaux-Arts, Paris in 2006 and studied at Cooper Union in 2005.
Tabouret has recently exhibited at SADE, Los Angeles, Rachel Uffner Gallery, New York, Palazzo Fruscione, Salerno, Italy, The Drawing Center, New York, Galerie Bugada & Cargnel, Paris, the Musée des Beaux-Arts, Saint-Lô, the Fondation Louis Vuitton, Paris, the Maison Guerlain, Paris, and the Galerie du Jour Agnès b, Paris. Her work has been acquired by major collections and is notably part of the Pinault Collection, Agnès b, Fondation Colas, and FRAC Auvergne, among others.
Tabouret lives and works in Los Angeles and Paris.
Value: $30,000
Generously donated by Claire Tabouret