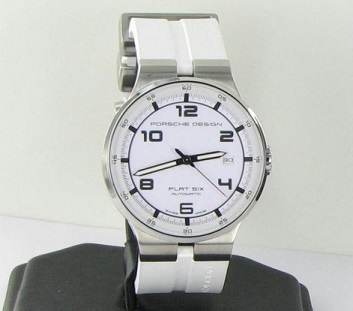 Porsche Design P6351 Flat Six Auto Steel Unisex White Watch
Porsche Design P6351 Flat Six Auto Steel Unisex White Watch 6351.41.64.1256 NWOT
The Flat Six series derives its name from the six-cylinder Boxer engines which played a major role in establishing the world-wide reputation of the Porsche name.
Porsche Design watches go beyond a mere co-branding exercise and instead carry the design DNA and philosophy of the company's founder, Ferdinand Alexander Porsche. There is no arguing that over its 40+-year history; it has produced some revolutionary, collectible and important watches.
To understand Porsche Design watches, you must, as with so many things, go back to its beginnings. In 1963, the Porsche car company introduced its latest model, the 911, at the Frankfurt Auto Show. The car was the successor to the brand's popular but aging model 356 and featured newer, more minimalist design language, penned by Ferdinand Alexander "Butzi" Porsche, the son of the company's founder. Of course, we don't need to remind anyone about the success of the 911 which, along with James Bond films, has endured as a true cultural icon that has evolved but still retains its perfect original form.
Form is an important concept to all designers. In 1972, he founded Porsche Design and his first product was a wrist watch.
It's hard to believe that before 1972, there were no black watches, given today's ubiquity of PVD, DLC and ceramic timepieces. So when Porsche Design introduced an austere chronograph in a black steel case with black bracelet, it was a sensation. 40+ years later, the watch still looks remarkably contemporary with its utilitarian, almost severe, layout.
Specs:
Brand: Porsche Design P6351 Flat Six 6351.41.64.1256
Manufacture Year: 2010
Movement: Swiss Automatic
Case: Sandblasted/Polished circular brushed steel
Strap: White Rubber
Clasp: Buckle
Dial: White
Diameter: 40 mm
Thickness of case: 11.35 mm
Crystal: Scratch Resistant Sapphire
Water Resistant: 100 meters / 330 Feet
Date function at 3 o'clock
Exhibition case back w/ anodized black rotor
Brand New w/ Box & Papers!
Value: $3,440
Generously donated by the Change a Life Foundation