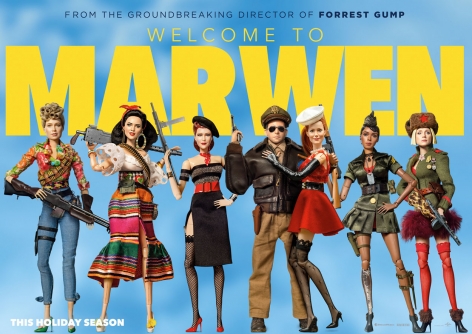 Movie Premiere of WELCOME TO MARWEN and Exclusive After Party
Enjoy an exclusive premiere screening of the new Robert Zemeckis film starring Steve Carell, WELCOME TO MARWEN.
About WELCOME TO MARWEN
When a devastating attack shatters Mark Hogancamp (Steve Carell) and wipes away all memories, no one expected recovery. Putting together pieces from his old and new life, Mark meticulously creates a wondrous town where he can heal and be heroic. As he builds an astonishing art installation—a testament to the most powerful women he knows—through his fantasy world, he draws strength to triumph in the real one. In a bold, wondrous and timely film, WELCOME TO MARWEN shows that when your only weapon is your imagination…you'll find courage in the most unexpected place.
The premiere is currently scheduled to take place on or around December 10, 2018.
Restrictions:
Once awarded, cannot be sold, transferred or bartered by you to any other person or entity. Certificate holder must contact Universal Pictures within thirty (30) days of receipt (or immediately in the event the premiere takes place within thirty (30) days of receipt. Universal Pictures will provide the holder of this certificate with tickets to the event, but never promises interaction with the talent and filmmakers (e.g., pictures with stars, admittance to VIP areas, autographs from stars). In the event all or part of the premiere gets cancelled, rescheduled or for any other reason in Universal's sole discretion, Universal Pictures reserves the right to provide certificate holder with tickets to a different Universal Pictures release. This screening will be monitored for unauthorized recording. Any attempted use of recording devices will result in your immediate removal from the theater, forfeiture of the device and may subject you to criminal and civil liability.
Value: Priceless
Generously donated by Universal Studios and Leslie and Robert Zemeckis